December 20, 2018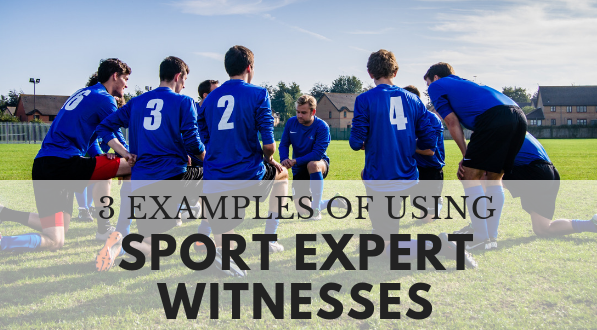 It is surprising how many civil cases involve sports. From unsafe sports facilities and gear, to devastating sports injuries, to medical malpractice for concussion diagnosis and treatment – all of these can commonly involve the use of a sport expert witness to provide clarification and expert testimony.
These types of experts often come from a variety of backgrounds and focus areas, including but not limited to:
Artificial turf/sports surfaces experts
Biomechanical engineering (for example, as it pertains to skiing)
Concussion experts (athletic trainers, neurologists, psychiatrists)
Safety and Risk Management
Spectator injuries
Sport physiology experts
Sports medicine experts (orthopedic surgeons, physical medicine and rehabilitation)
Swimming pools and lifeguard training
Trampoline parks, and other recreational facilities
How Sport Expert Witnesses are Used in Facilities Management Cases
Facility managers have a responsibility to maintain the safety and integrity of buildings, equipment, and other environments. The International Organization for Standardization defines facilities management as the "organizational function which integrates people, place and process within the built environment with the purpose of improving the quality of life of people and the productivity of the core business."
Sports facilities fall into the category of the types of buildings and environments overseen by facility managers. That's why when something goes wrong in these environments, sport expert witnesses are often used in facilities management cases.
Here are a few examples:
Example #1: An unsafe sports facility injures a young baseball player
In baseball, safety precautions are usually taken to eliminate the likelihood of injuries to both players and fans. In one case, a player sitting at the end of the bench in the dugout was struck in the temple by a baseball. The dugout did not have proper fencing and both ends of the bench were exposed, allowing the ball to come into the area and strike the player.
What makes this example heart-wrenching is that the boy endured serious injuries – a fractured skull, epidural bleeding in his brain, and permanent brain damage. All of this could have been prevented with proper facilities management.
In this case, a sports facilities expert could help explain to the jury the rules and industry standards for fencing in baseball fields.
Example #2: Faulty gym equipment leads to basketball injury
It's common for grade school and high school gym classes to break into teams and play sports like basketball. Proper safety measures and protective gear, however, should always be used.
In this example, a basketball rim was not properly maintained and therefore became a danger to the students. As the teams played basketball against each other, two opposing students jumped towards the basketball rim to grab a rebound. In doing so, one of them bumped the basketball rim, which tumbled down, hitting the other student and severely injuring her face.
Sports facility expert will help explain the facilities maintenance responsibilities and equipment check required, and how often these maintenance checks should be conducted.
Example #3: Multiple injuries at a popular trampoline park
Trampoline parks have interconnected trampolines where people can jump from one to the other. While there are risks involved with any type of trampoline, putting multiple trampolines next to each other and expecting kids and adults to jump directly in the center is especially dangerous.
In this example, multiple people suffered injuries at an anonymous trampoline park within a matter of weeks. Injuries included bone fractures in the legs and feet – one resulting in the use of a wheelchair and crutches for almost a year.
Why did this happen? The lawsuit alleged the trampolines used in the park were defective and dangerous. A sports facility expert can provide expert opinion on the safety of the trampoline park and equipment, and an orthopedic or sports medicine physician can speak to the injury to the bones and joints.
Find the Expert You Need
Sport expert witnesses often specialize in a number of areas and can add valuable strategy recommendations and/or testimony for sports facility management cases. Saponaro, Inc. saves you time to do what you do best – practice law – with the confidence that your sports expert witness requirements will be met.
You can trust Saponaro, Inc. for professional and objective sport expert witnesses. We thoroughly screen your case with our experts to obtain the best available match. When you're ready, we have thousands of experts standing by to assist you with your case. Find one today.