May 24, 2019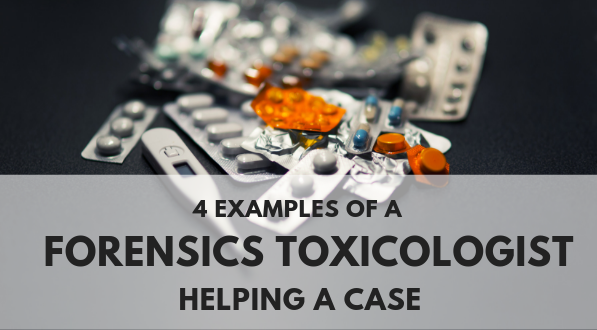 The job of a forensic toxicologist is not a simple one. These professionals are tasked with understanding the innerworkings of chemicals, drugs, gases, metals, and how each interacts with and affects the human body. These scientists know how to interpret and explain drug dosages, drug interactions, and other toxicology fundamentals to help solidify a personal injury or medical malpractice case.
Forensic toxicologists provide expertise in a number of areas, including but not limited to:
Criminal investigation
Medical malpractice
Personal injury
Product liability
Toxic torts
Workers' compensation
To understand how forensic toxicologist can potentially help your case, let's examine some examples of using toxicology experts.
Opioid Addiction Case
The opioid epidemic is a growing problem in the U.S., and an estimated 54 million Americans over the age of 12 have used prescription drugs for non-medical reasons in their lifetime. One way in which expert toxicologists are used is for opioid addiction cases. They may testify on dosages, as well as monitoring and safety (or lack thereof) of prescription opioid medications.
Carbon Monoxide Poisoning
Breathing in odorless, colorless, toxic carbon monoxide gas can lead to serious health issues such as fainting, organ failure, memory problems, or even death. In the event that a heating system is not installed correctly in a residential building and tenants are unknowingly exposed to carbon monoxide, resulting in injury or death, a forensic toxicologist can explain the effects of carbon monoxide to a jury in a personal injury case.
Medical Malpractice from Improper Treatment
Doctors are responsible for examining the patient and collecting all applicable information before prescribing a medication. If they fail to collect pertinent patient information, prescription medications with certain side effects can lead to serious injury or death. For example, a middle-aged woman who smokes should not be prescribed estrogen for menopause symptoms, as a major side effect is increased risk of blood clots and death. A forensic toxicologist can identify this misstep and cause of death, then properly explain it to a jury in court.
Personal Injury Case Involving Drunk Driving
A forensic toxicologist can also determine if a person involved in a personal injury case had been drinking alcohol and/or operating a vehicle, vessel, or machinery while under the influence. For example, if a person is driving a boat after consuming alcohol crashes into another person driving a boat and the accident results in lifelong paralysis, the forensic toxicologist can consult or testify on the case regarding the alcohol consumption and intoxication.
Find the Forensic Toxicology Expert You Need for Your Case
No matter the type of personal injury or medical malpractice involved in your case, you can trust Saponaro, Inc. for professional and objective expert witnesses. We're here to help keep the process simple and stress-free. We offer:
Medical experts
Comprehensive Case Evaluations
MD hotline
Independent medical exams
Let us take the work of identifying a forensic toxicologist for your case out of your hands. We have thousands of experts standing by to assist you with your case. Find one today.