June 11, 2019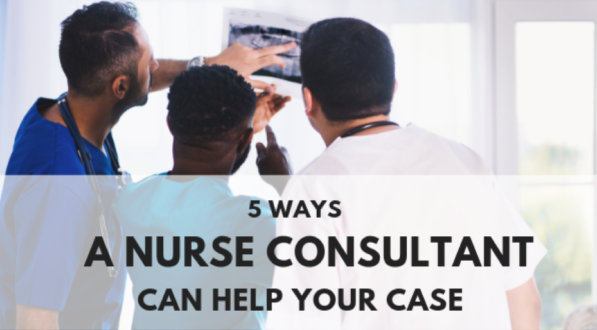 As an attorney, your expertise is in pursuing and winning legal cases, whether it's medical malpractice, personal injury, or others. That's why when cases involve a medical component, you need medical experts to assist you with building a winning case.
Nurse consultants guide attorneys through all the medical aspects of their case. This service, also known as concierge nursing, utilizes practicing nurses and/or nurse practitioners as expert witnesses in legal cases.
How do you know if your case could benefit from the help of a nurse consultant? Or should you turn to another type of expert? Let's examine the ways a nurse consultant can help.
A nurse consultant can organize and interpret medical records and charts.
Medical record organization is an essential component of the medical review process. Organized medical records provide efficient navigation during case preparation. When you work with a registered nurse (RN) on your case, you can stay organized and efficient throughout the discovery process, case preparation, and expert testimony.
A nurse consultant can help you understand medical issues and terminology pertinent to the case.
This step is especially beneficial when deciding if a case is worth pursuing, which can be nearly impossible if you don't understand the medical details of the case. It's also helpful when preparing for trial and speaking to a jury, as the nurse consultant can coach you on how to communicate medical details in a way a jury can understand.
A nurse consultant can recommend other experts needed to build a winning case.
You know you're going to need certain expert witnesses for a case, but you might not be sure of the best specialty to address standard of care or damages. A nurse consultant can strategize these areas of the case with you, helping you decide which medical specialists are needed, and for what purpose.
A nurse consultant can identify information gaps that are crucial to pursuing the case.
When you review the details of a case, it may seem like all the pieces are there. When a nurse consultant takes a look a look at the records, he or she may have a different perspective. They may notice missing records, or lack of information that could affect the outcome of the case. A nurse consultant will point out these gaps so you're prepared ahead of time.
A nurse consultant can spot potential deviations and defendants.
Similar to number four, nurse consultants come into the case with a unique perspective, so they can often identify angles or approaches the opposing side may take. Think of the nurse consultant as a fresh set of eyes that can help you see all the various directions the case may go.
Find the Nurse Consultant You Need
As an attorney handling a medical malpractice or personal injury case, it's your job to find the experts who understand and can explain the intricacies of your case, and a nurse consultant can guide you through this process, and help you build a winning case.
No matter the details involved in your medical malpractice case, you can trust Saponaro, Inc. for professional and objective expert witnesses. We're here to help keep the process simple and stress-free. We offer:
Let us take the work of understanding complicated medical terminology out of your hands. We have thousands of experts standing by to assist you with your case. Find one today.