February 20, 2015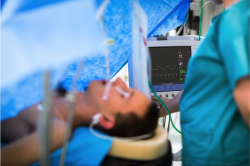 According to the Centers for Disease Control and Prevention, unintentional injury was the leading cause of death in children in 2012. Some of the main reasons for accidental child death—reported by The National MCH Center for Child Death Review—are motor vehicle accidents, drowning, suffocation, poisoning and firearms.
Medical poisonings in children have increased in the last several years, due to the high rate in which parents are filling prescriptions. In a Pediatrics study, the author explains that over 700,000 children in the United States under the age of 18 go to the emergency room every year because of poisonings and accidental medication exposures.
When an accidental child death occurs, a medical expert witness will be able to determine if it truly was unintentional or not. Since there are over 90,000 wrongful deaths each year, due to medical malpractice alone, the role of a medical expert witness can be a major one.
If a client is charged with Second Degree Murder due to the death of a child, a medical expert witness will be able to review medical records to determine the cause. In this example, the expert witness plays a crucial role in determining whether or not the individual is guilty of any wrongdoing.
Many children die after ingesting or absorbing lead. Exposure to the naturally occurring metal can lead to brain damage, blood issues, or even death. A medical expert witness will have knowledge of OSHA standards regarding lead, and also know how to detect the common signs of lead poisoning in children. The expert witness can perform a case review, or even help a lawyer with case development.
An expert witness will often provide testimony of key findings and facts about an accidental child death, such as one caused by Baby Shaken Syndrome. Their opinions and assessments can help to persuade a judge, jury or arbitrator.
Our Pediatrics and Nurse Practitioner Experts are available to address:
Accidental Death
Pediatrics
Intentional Child Injury
Child Abuse
Poisoning
Trauma
Adverse Effects of Drugs
Saponaro, Inc. will meticulously review the details of your case and suggest the best expert based on our thorough evaluation.
Let Saponaro, Inc. be the one call you make for all of your expert witness needs.