December 27, 2018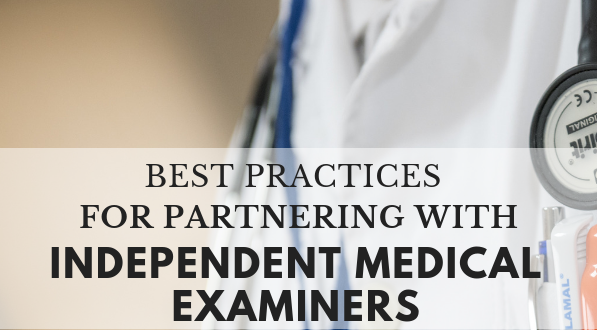 Accidents resulting in serious injuries occur every day. There were 2.9 million injuries and illnesses reported by private industry employers in 2016, according to the U.S. Bureau of Labor Statistics. That's 2.9 cases per 100 full time employees.
Why are these numbers significant? When workplace injuries occur and a workers' compensation case opens, independent medical examiners (IMEs) play a crucial role. It is necessary for an independent physician to confirm the extent of the patient's injuries.
Independent medical examiners can make the following determinations in a workers' compensation case:
Ensure the victim's extent of injuries
Affirm that the significance and permanency of the injuries
Confirm that the injuries were most likely caused by the workplace accident
Even though the individual has already seen a doctor for treatment of the injury or illness, an independent medical examination is necessary, since most treating physician's are not available to support opinions on these types of matters. Because of this, attorneys look for independent medical examiners – and that's when they turn to us at Saponaro, Inc.
Steps to Follow When You Need an IME
An IME entails three main steps: review the patient's medical records; interview and physical examination of the patient; and production of a written report. IME experts who work through Saponaro, Inc. include, but are not limited to, the following areas:
Pain Management
Orthopedics
Neurology
Physical Therapy
Occupational Therapy
Neuropsychology
TMJ Specialists
Psychiatry
Vascular Surgery
Plastic Surgery
IME Experts from Saponaro, Inc.
When the scenario arises that you need an IME (or an additional IME to cover a different specialty area), we are standing by, ready to supply you with a dependable expert. Saponaro, Inc., is chosen every day because of our strong selection of premier experts in all areas of litigation. We thoroughly screen your case with our IME experts to obtain the best available match.
Trust in Saponaro, Inc. for professional and objective expert testimony. We have thousands of IME experts standing by to assist you with your case. Find one today.