September 11, 2013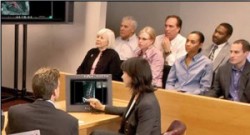 Personal injury cases require detailed evidence in a court of law. There are a variety of resources to use when presenting a personal injury case in a court room. No matter how a client was injured, from a traffic accident to medical negligence, trial technology can help build a visual that will help strengthen a personal injury case.
See how your personal injury case can benefit from using trial technology:
Show and Tell – The biggest challenge to overcome when presenting evidence for a personal injury case is the jury. Typically a jury is composed of random citizens, most of whom have little to no background in the information being presented. About 65% of the population are visual learners, and those people are being discounted when an attorney presents verbal information to a jury. Utilizing trial technology will help create a more realistic replay of a personal injury incident. A jury will be able to make a better judgment on a case when they have a better understanding of what actually occurred.
Save Time – Having a visual to present to a judge and jury can go a long way when presenting the facts for a personal injury case. Instead of taking hours to explain the set up and events that occurred that caused personal injury, take 30 seconds to recreate the scene or incident with visuals. This eliminates the event that a jury will misinterpret what actually happened, and give them something to take back to the deliberation room. Instead of rushing notes and possibly misconstruing them, jurors will have a concrete retelling of what happened and be more able to decide on a verdict.
Allow Understanding – Presenting clear evidence can help a case in any setting, particularly in personal injury cases. After listening to testimonies and being presented with evidence for eight hours, a jury can grow tired or even bored. Utilizing trial technology tools can help to better explain what occurred in a case. Particularly with medical personal injury cases, having a video to show exactly what went wrong can give a jury better information than any number of words can do.
Providing evidence for personal injury cases can be a challenging task. There are a number of trial technologies available, from custom courtroom animations to graphics and interactive demonstrations. Working with personal injury cases has never been easier thanks to these courtroom technologies. To learn more about what courtroom technology is right for you, contact Trial Technologies, Inc.