November 26, 2018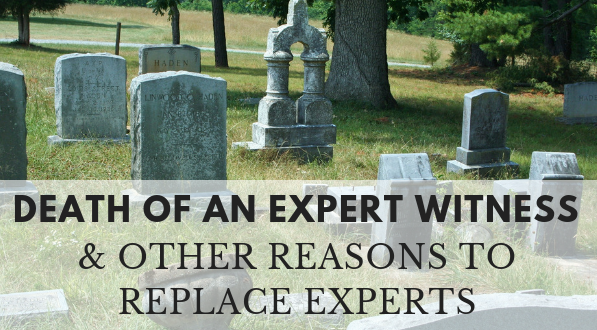 Expert witnesses play a crucial role in a case, and many times your expert's testimony will determine whether you win or lose the case. It's a make or break situation, and you depend on trustworthy, reliable expert witnesses.
But what happens when an expert witness backs out of your case for some unforeseen event or circumstance? Or you encounter hesitancy or difficulty in trying to schedule your expert for trial? And worst-case scenario: what happens with the death of an expert witness?
Be Prepared for Anything
You may think the odds that you will ever have to replace one of your expert witnesses is low, and that may be true. But it does happen. If it does happen, you will be left scrambling or your case will likely be dismissed.
There are many reasons an expert witness could fall through, including:
Accident
Death of an expert witness
Disqualification
Illness
Injury
Late discoveries of uncontrollable factors
Late discoveries will put you back into a last minute and desperate expert witness search.. Such late discoveries occur when you fail to prepare ahead of time, and include:
The Expert did not provide the care in question; at the time the alleged malpractice occurred.
The Expert has a conflict of interest, after reviewing your records and accepting a fee.
The Expert is unwilling to testify, but failed to make that clear when agreeing to review the case and after accepting payment.
The Expert is not unbiased in their opinion, and has misled you on the strengths and/or weaknesses of your case.
How to Replace an Expert Witness
If something arises that prevents your expert from testifying, such as the death of an expert witness, ask yourself these questions: What aspect of your case will be missing if the witness does not testify? And will I have any chance at winning the case without this expert witness? The answers to these questions will determine your next step.
If you must have a replacement expert witness, rest assured that most courts give you the time to substitute an expert witness even as late as the day before the trial, as long as the cause was "beyond the control of the [party] and their counsel." Wright v. Miller, 989 N.E.2d 324, 331 (Ind. 2013).
The best way to find an expert witness replacement quickly is through a reliable expert witness service like Saponaro, Inc. We often receive concerned phone calls from attorneys who need a last-minute expert replacement, or addition, and while we strive to help attorneys avoid the need for these replacements to begin with, we are here to quickly turnaround referral to the right expert witness for your case.
The most reputable services stand behind their referrals, and replace an expert for any reason, at no additional cost. Save time to do what you know best – practice law – with the confidence that your case requirements will be met. We have thousands of experts standing by to assist you with your case. Find one today.