May 15, 2013
In 1999, the Institute of Medicine published the groundbreaking publication "To Err Is Human," a study which found that tens of thousands of patients died every year from medical mistakes. Despite this, only a small portion of such patients' families file a medical negligence claim.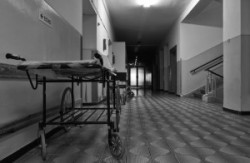 A 2002-2007 study took place in ten North Carolina hospitals, and found that injury to patients was commonplace and the instances of injury did not decline over time. The problems reported in the study included adverse reactions to drugs, the development of bedsores, the failure to prevent falls, and the readmission of a patient to a hospital within 30 days of discharge.
Unfortunately, reporting medical errors is voluntary.
With more than 35 years of experience in the assistance of investigation of hospital negligence matters, Saponaro Inc. provides knowledgeable and credible experts for a variety of hospital related issues, including (but not limited to) the following:
Joint Commission for Health Care Accreditation
Medical Staff Credentialing
Hospital Safety Regulations & Compliance
Risk Assessment & Management
Hospital Security & Safety Violations
Patient Harm, Injury, & Death
Saponaro Inc. will refer the best possible expert to meet the needs of your medical negligence claim.
Fill out our Expert Request Form, call our office at 800-327-3026, or email us at Experts@saponaroinc.com today to give your medical negligence claim the winning edge!