September 27, 2018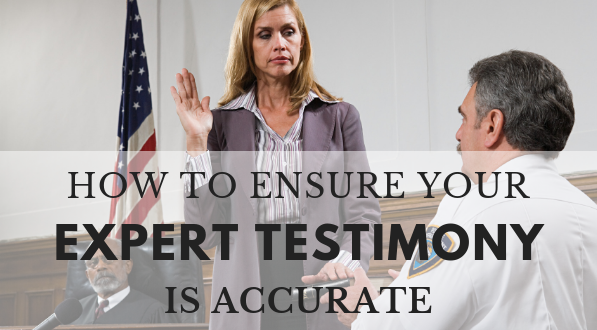 You already know that it takes a specifically qualified individual to be a strong expert witness, and that choosing the right expert witness can make or break your case. However, when attempting to hire an expert witness on your own, you might spend hours and hours locating a potential expert, not including the vetting process, and end up with an expert witness whose testimony is far from sufficient.
So, how do you make sure an expert is the right choice for your case and that their expert testimony and/or opinion is what is needed for a successful outcome? Start with the characteristics of the ideal testifying expert witness below.
The Ideal Expert Testimony
"The jury…is the sole judge of the credibility of all witnesses, including experts," says a legal source, "and if the expert's credibility is successfully impeached on any point, it is impeached on every point."
The Credibility of your expert witness is the first and most important way to ensure their opinion and testimony will be accurate. Many cases are lost when an expert is not a trusted resource. This is where the vetting process comes into play. By hiring testifying expert witnesses through Saponaro, Inc., you are receiving a network of experts who have already been appropriately vetted and qualified to provide substantial expert testimony.
We know the expert's strengths and weaknesses; we know their expertise on the subject at hand; and we know our experts are willing to support their opinions, with facts and data, through deposition and/or trial.
Objectivity is next on our list of keys to ensure a substantial expert testimony and/or opinion. A testifying expert witness must be objective. Although we all want to believe that the case we are investigating has merit, especially since the damages are significant, the expert must not have their own agenda when it comes to rendering opinions.
It is not the expert witness's role to make a case for one side or the other, it is the expert's responsibility to know the standard of care; to investigate if there have been breaches from known and accepted standards of care; and to back-up those opinions with facts. If your expert opinion and/or testimony is not based on specific and consistent details and facts, the other-side will see that your expert is not objective and challenge the expert opinion as invalid.
Having foresight in preparing an expert for deposition or testimony is another way to ensure success. The opposite of foresight, myopia, is a recipe for disaster for expert testimony, especially during cross-examination. If your testifying expert has a lack of foresight, or a conclusive understanding of the role they need to play in your case, they may easily be blindsided by certain questions and statements brought up during their deposition or at trial.
It is essential to guide your expert witness and fully explain to them the expectations you have of them in your case; what they might experience from the attorneys on the other-side; how to respond to questions designed to "trick" the expert in their response; and how to stay effective and on point during examination. Otherwise, you will face immense challenges to overcome an expert who has not been properly prepared.
Clear communication is another must-have for an accurate expert testimony and/or opinion. Your expert must be briefed on how you would like for them to address their opinions, especially during testimony, so that a jury can understand and appreciate the merits of the case.
What good is hiring a testifying expert witness who speaks so far above the jury that there is more confusion following testimony than there was before your expert presented their opinion? The expert witness should take complicated subjects and explain them using words the average person can understand and relate to. Difficult medical terms need to be defined in laymen's terms, and drawn-out sentences used to sound more intelligent are not necessary for substantial expert testimony. Answers and information that can be explained in as few words as possible are better.
Find the Testifying Expert Witness You Need
Saponaro, Inc., is chosen every day by trial attorneys because of our strong selection of premier experts in all areas of litigation. We thoroughly screen your case with our experts to obtain the best available match.
Trust in Saponaro, Inc. for professional and objective expert testimony. We have thousands of experts standing by to assist you with your case. Find one today.