February 12, 2019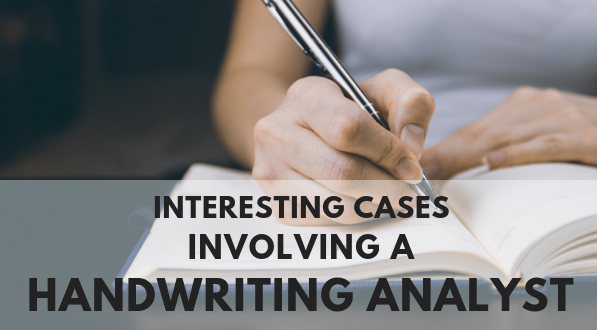 A handwriting analyst plays a unique role in a court case. Their expertise lies in identifying similarities and differences from the document in question. They can analyze a handwritten note, for example, and look at aspects such as how it's written, and the details in the writing.
Handwriting becomes an important piece of the puzzle in many types of cases. One example involves a handwriting analyst assisting in a case involving a dispute over an inheritance. Prior to the death of an elderly couple, their will was amended to exclude one of their sons due to a prolonged, estranged relationship. The amendment to the will came into question, however, when it was realized the couple had reconciled their relationship with the son just before their death. A handwriting analyst would be used to review the amendment documents for the couple's will.
Handwriting analysts are also used in cases involving alleged forged signatures on important documents such as:
Estate inheritance wills
Lease and rental agreements
Living wills
Mortgage documents
Vehicle titles
And more
These types of professionals are even used in criminal cases involving notes, signatures, or other writing that could potentially incriminate a suspect. For example, in one case involving a drive-by shooting of a residential area, a handwritten note was left on the door of the home that was targeted. The message contained threatening language in connection with the shooting. The suspect's handwriting was compared to the note's handwriting by a forensic handwriting expert to determine if it was written by the suspect.
Find the Handwriting Analyst You Need
Saponaro, Inc. is known for its expert witness selection, as well as our litigation support services, MD Hotline, RN review services, and case evaluation services. We specialize in providing experts for the e health care industry, and for personal injury and product liability cases.
Saponaro, Inc. is chosen every day by attorneys, insurance professionals, and other private and public agencies, because of our strong selection of premier Experts for all areas of litigation, including handwriting analysis. With over 40 years helping attorneys win trials, we've placed the best expert witnesses in over 40,000 cases.
Whether your need a handwriting analyst or another kind of expert witness, we have what you need. Find one today.