September 12, 2018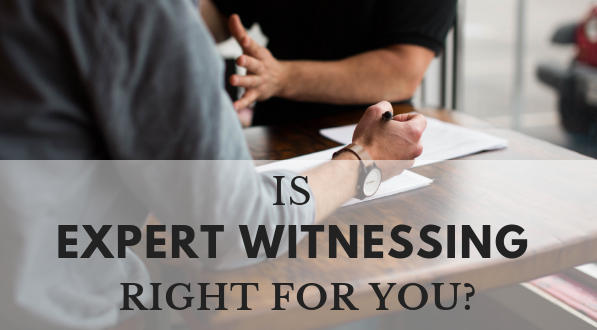 What does it take to become an expert witness, and do you have the time and interest in assisting on legal matters?
An expert is a specialist with advanced knowledge in a professional area, such as any medical or hospital personnel, as well as the fields of automotive, finance, engineering, law enforcement or education, to name a few industries. This person has knowledge and expertise in a particular area, which is due to hands-on work in that specific specialty. An expert witness is someone who gives sworn evidence on the applicable standards of care in a court of law.
Expert witnesses are not required to argue a case. They are required to give unbiased facts and opinions, within their area of expertise. Although an expert witness is used to help attorneys develop a winning strategy, such as framing discovery requests and identifying productive issues to investigate in depositions, they should never venture outside their area of expertise. Expert witnesses are used to provide truthful, impartial input on a particular subject matter during the trial.
Cornell Law School explains it well: "experts may testify on any subject within their area of expertise so long as their testimony will assist the jury."
Becoming an Expert Witness
Joining Saponaro, Inc. is beneficial if you have an interest in expert witness work, since we can answer any specific questions you might have and we can walk you through the process of assisting as an expert witness, from the initial case evaluation; through deposition; and as a testifying expert in court. A strong expert witness exhibits certain qualities. You should consider expert witnessing if you:
Are fair and objective, no matter which side you are asked to assist.
Have the ability to meet deadlines and communicate directly and accurately your findings.
Able to support your opinion from investigation through court testimony.
Have a schedule that is somewhat flexible to allow for depositions and trial appearances.
Have the ability to present your findings in an easy to understand approach
Are an actively practicing medical, hospital, dental or healthcare professional.
If you understand the role an expert witness needs to play, and have a genuine interest in providing unbiased opinions, as well as supporting those opinions, you could be an ideal candidate to become an expert witness in our network pool. If you do, there is no pressure, and you can pick the cases you feel the most comfortable providing opinions on.
How Much do Expert Witnesses Get Paid?
Our experts set their own fee schedules, and the hourly rate normally depends on the area of expertise – generally experts in medical fields will command higher hourly rates and fees than those in non-medical fees.
Saponaro, Inc. refers from a pool of expert witnesses covering a multitude of subject areas, including:
Accident reconstruction and automotive experts
Accounting experts
Blood bank experts
Construction expert
Dental experts
Dermatology experts
Expert toxicologist
Forensic experts
Handwriting analysts
Insurance coverage expert
Nurse experts
Nursing home experts
OB/GYN experts
Pediatric experts
Physicians and other medical experts
Police experts
Psychiatric experts
Radiology experts
Worker's compensation experts
Expert witnessing provides the opportunity to grow and share your expertise with people who need it. You have the opportunity to make a difference in someone's life outside of your day-to-day career. Share your knowledge and expertise with those who need it. Put your expertise – the expertise that you spent long nights and many years building and broadening – to good use.
There is no risk to inquire about becoming an expert witness with Saponaro, Inc. Start expert witnessing today.