March 8, 2019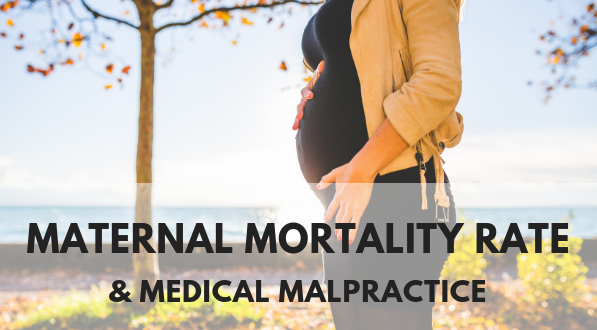 When you think of maternal mortality, what do you envision? A woman who hemorrhages during labor and dies shortly after? Or an undiagnosed infection that leads to sepsis and death weeks after giving birth?
Both are common causes of maternal mortality, which include:
Severe bleeding after childbirth
Infections
High blood pressure during pregnancy
Complications from delivery
Most of the above causes of maternal mortality are treatable and preventable. However, 830 women die from pregnancy- or childbirth-related complications around the world each day.
You may be surprised to learn that compared to their own mothers, American women today are 50% more likely to die in childbirth. Maternal mortality rate has risen steadily over the past few decades, indicating a clear safety problem for pregnant women.
Why is the Maternal Mortality Rate So High?
Only one in five maternal deaths occur during childbirth. Instead, the majority of deaths happen in the days and weeks following the birth, after the mother and baby are sent home. Researchers are still examining reasons behind our climbing maternal mortality rate, but evidence points to both unsafe medical care (or lack thereof, since a mother waits six weeks to see a doctor after giving birth) and eroding social support.
In addition to maternal deaths, severe injuries are common. For every death, pregnancy-related conditions such as high blood pressure or blood clots lead to up to 100 severe injuries. Those severe injuries cause tens of thousands of women to suffer from inadequate treatment of the life-long physical or mental illnesses that result.
After an American woman leaves the hospital with her baby, more often than not she faces:
Long gaps between medical check-ups
Accelerated responsibilities
Extreme sleep deprivation
Pressure to return to work
Pregnancy and childbirth recovery
In general, maternal health is placed on the back burner after delivery in the United States leading to mistakes and medical malpractice. Could that be part of the issue for high maternal mortality rates?
The solution to the high maternal mortality rate problem is multidimensional and complex. It falls in the hands of clinicians and hospitals, as well as policymakers, mothers, and society itself. But a solution must be sought to reverse the climbing maternal mortality rate.
Find the Expert You Need
As an attorney handling a maternal mortality case, you can trust Saponaro, Inc. for professional and objective expert witnesses. We're here to help keep the process simple and stress-free. We offer:
Let us take the work of identifying an expert for your maternal mortality case out of your hands. We have thousands of experts standing by to assist you with your case. Find one today.