November 8, 2018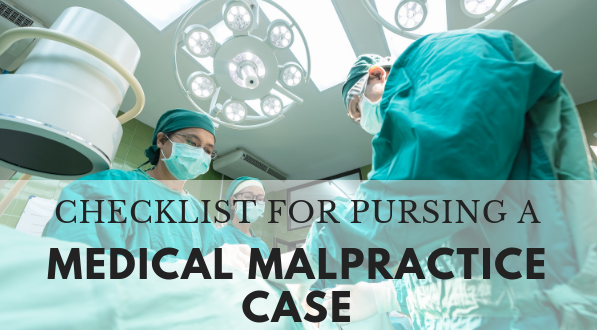 Most healthcare providers are dedicated to the safety and well-being of their patients. Despite that effort, sometimes things go wrong. Some patients fall victim to healthcare negligence and turn to the legal system for help. Attorneys can examine a medical malpractice case to determine if they should pursue it.
Most often, medical malpractice cases involve one of the following:
Death
Delay or failure to diagnose or treat a medical condition
Disfigurement following a surgery
Drug or device recall
Foreign object left behind after a surgery
Infection
Problems from a surgery
Wrong medication prescribed
Nursing Home maltreatment
There are many steps involved with pursuing a medical malpractice case, and each attorney may complete the steps in their own manner. However, the foundation remains the same: determine if the healthcare professional was negligent or failed to provide the standard of care, as well as what role the substandard care played in the subsequent outcome of the case.
Is it a Medical Malpractice Case Worth Pursuing?
Below are basic guidelines to follow when determining if a medical malpractice case is worth the effort and investment.
Gather details from the client. The below information is vital because some states have statute of limitations laws, meaning after a certain amount of time the malpractice event cannot be pursued.

Specific date of the alleged malpractice or the specific date it was discovered that there may have been malpractice committed during the care in question.

Talk to the client about the malpractice and ask these questions:

How do they believe the healthcare provider was negligent? What do they believe the healthcare provider did that could be considered malpractice or what did the healthcare provider fail to do?
How has the alleged malpractice affected you today and what present problems or conditions do they have that would be attributed to the healthcare providers' treatment/surgery, etc?

Gather the medical records to see if the client's version of events is accurate as explained, and thus warrants a medical investigation. Get a medical evaluation of the records by an appropriately qualified healthcare professional, in order to determine if there were departure from the accepted standards of care in the treatment of your client, as well as what damages can be specifically related to the negligence. Many states require the attorney file a certificate of merit before pursuing a medical malpractice case. Therefore, you need to have an expert that is committed to their opinions and willing to support these opinions through deposition and/or trial.
If a concern with the level of damages, an independent medical exam may be helpful, if the records do not offer the detail of the injuries suffered.
Experts for Your Medical Malpractice Case
Saponaro, Inc., is chosen every day by trial attorneys because of our strong selection of premier experts in all areas of litigation. We thoroughly screen your case to recommend the best available service– whether it is record organization, , or expert witness referral.
Our experts set their own fee schedules, and the hourly rate normally depends on the area of expertise.
Trust in Saponaro, Inc. for professional and objective expert testimony. We have thousands of experts standing by to assist you with your case. Find one today.