October 5, 2011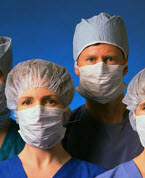 In a recent study of more than 800 clinically coded obstetrical medical malpractice cases analyzed, 77% cited errors in clinical judgment. The report identifies that the next most prevalent areas of causation were miscommunication, technical errors, inadequate documentation, administrative failures and ineffective supervision.
This landmark analytical report is based on data from OB-related malpractice cases between 2005-2009. With this data in mind, OB/GYN Expert Witnesses are more valuable than ever for obstetrics malpractice lawsuits.
There are over 18,000 OB/GYN physicians practicing in the United States in 2017 earning a median annual wage of $235,240, according to the U.S Bureau of Labor Statistics (for which the latest data exists).
Find an OB/GYN Expert
Saponaro Inc. is chosen every day by attorneys, insurance professionals, and other private and public agencies because of our strong selection of premier OB/GYN expert witnesses.
Our OB/GYN expert witnesses testify in areas related to, but not limited to, the following:
Abnormal pap smear management
Cesarean sections
Colposcopies
Contraception
da Vinci Robotic Surgery
Ectopic pregnancies
Endometriosis
Fertility drugs
Gynecologic Laparoscopic Surgery complications
Gynecologic oncology
Gynecologic surgery
Hormone therapy
Hysterectomy
In Vitra Fertilization
Infertility
Maternal Fetal Medicine
Menopause
Miscarriages
Multiple pregnancies
Obstetrics
Operative hysteroscopy
Pelvic infections
Physician-midwife practices
Reproductive endocrinology
Sterilization
Women's health issues
Contact Saponaro for your OB/GYN expert witness needs today.