May 6, 2019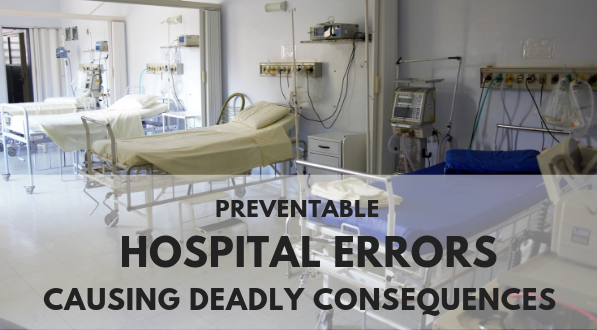 When a person is admitted into the hospital, they put their lives in the hands of medical professionals. Each of us trusts that the doctors, nurses, medical assistants, radiology technicians, and any other medical staff have our best interests at heart. But these professionals make mistakes.
Hospital errors happen every day. One study from Johns Hopkins Medicine found that medical errors are the third leading cause of death in the U.S., behind only heart disease and cancer. More than 250,000 Americans die from hospital errors every year.
The next closest cause of death — respiratory disease— kills approximately 150,000 people per year.
Most hospital errors are caused by one or more of the following reasons:
Absence or underuse of safety protocols
Error in judgment or care
Inadequately skilled staff
Poorly coordinated care
Systemic problems
Common hospital errors that can lead to serious health problems or death include:
Wrong medication or dosage
Mistaken identity
Wrong-site surgery
Poor infection control
Unnecessary prescriptions
Expert Witnesses for Medical Malpractice Lawsuits Concerning Hospital Errors
Many medical malpractice lawsuits originate because of hospital errors resulting in permanent damage or death.
For example: a pharmacy technician fills the intravenous bag improperly for a pediatric patient receiving her last chemotherapy treatment for cancer. Within hours, the young patient is put on life support and declared brain dead. Days later, she dies.
Had the intravenous bag been filled with the proper medication and dosage, the child would be alive. The hospital and pharmacist technician can be held liable for an unnecessary and untimely death of the little girl.
Most of all, expert witnesses can strategize with attorneys prior to pursuing a medical malpractice case to determine if it's worth pursuing.
No matter the type of hospital errors involved in your case, you can trust Saponaro, Inc. for professional and objective expert witnesses. We're here to help keep the process as streamlined as possible. We offer:
Medical experts
Comprehensive Case Evaluations
MD hotline
Independent medical exams
Let us help lighten the load for your medical malpractice lawsuit concerning hospital errors. We have thousands of experts standing by to assist you with your case. Find one today.