February 1, 2019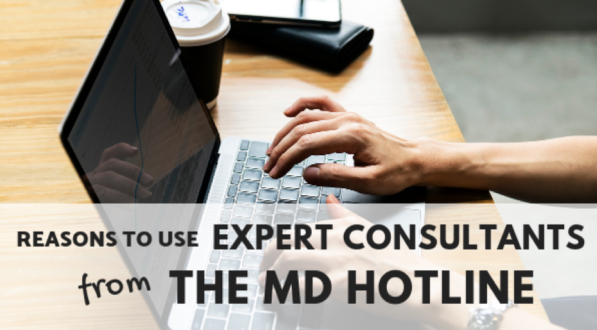 Expert consultants are knowledgeable in their areas of specialization, and bring major advantages to your case strategy and are able to testify in the courtroom.
Before you even know if you should pursue a case, where do you go when you have questions you can't answer? What if you have a straight forward, single issue you need help with before you can move forward?
Through the MD Hotline from Saponaro, Inc., you can have your specific questions answered by board-certified physicians or other appropriate health care professionals about your case.
The expert consultant on the MD Hotline will answer your questions or concern, so you can determine if your case is worth pursuing. Should you decide to pursue the case, based on the consultants opinions, and need an expert witness to support your case, the expert you consulted on the MD Hotline is ready to move forward with you.
3 Benefits of MD Hotline Expert Consultants
The MD Hotline can assist you in determining if a case is worth pursuing. Straightforward case concerns deserve a straightforward and direct opinion. We can quickly guide you through a single case issue, so you have done your due diligence for the case and client.
The MD Hotline expert consultants are willing to support their initial opinions through continued record evaluation; Affidavit or Certificates of Merit; as well as through deposition and/or trial testimony.
MD Hotline is affordable. The cost to access an expert medical opinion on the MD Hotline is only $400. You'll receive an email response within 7 to 14 business days from Saponaro, Inc. with an opinion from the medical professional requested, based on the synopsis of the case that has been submitted.
Using expert consultants and/or expert witnesses is all about strategy – the ultimate benefits are up to you. If you need someone to fill in the missing pieces you may not fully understand or bring another perspective to an issue of your case, using the MD Hotline can assist. You'll be surprised how beneficial a second opinion for a potential or current case is – and how simple the MD Hotline process is.
Saponaro, Inc., is chosen every day by attorneys, insurance professionals, and other private and public agencies, because of our strong selection of premier Experts in all areas of litigation. With over 40 years helping attorneys win trials, we've placed the best expert witnesses in over 40,000 cases.
Whether your need an expert witness or access to the MD Hotline, we have what you need. Get started today.