January 10, 2019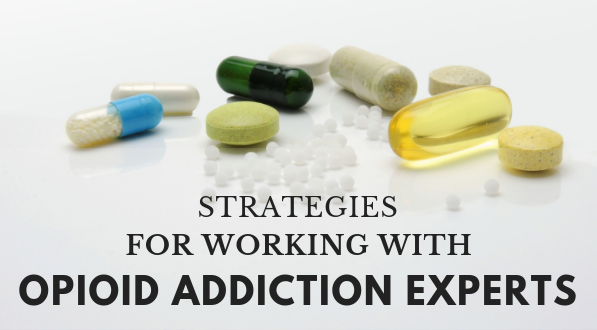 Opioid addiction has reached crisis level in our country. Every day more than 115 Americans overdose on opioids – anything from prescription painkillers, to heroin and synthetic fentanyl. As the number suggests, this opens the door to thousands of court cases related to opioid addiction across the country each year.
It's common for opioid addiction expert witnesses to be used in such cases, and as the addiction crisis worsens, the demand for addition experts increases. These types of experts often come from a variety of backgrounds and focus areas, including but not limited to:
Addiction medicine experts
Anesthesiology-pain management experts
Child, adolescent and adult psychiatry experts
Drug treatment programs/facilities
Dual addiction
Internal and family medicine experts
Mental health experts
Methadone treatment
Pain medicine experts
Pharmacology and drug development experts
Toxicology experts
How to Work with Opioid Addiction Experts
An addiction expert can provide valuable consultation and/or testimony in a variety of ways. For example, if a case involves an opioid overdoes during addiction treatment, a medical toxicology expert with a focus on opioids can discuss proper dosage levels for narcotics patients.
On the other hand, if a case involves alleged improper detoxification practices, an addiction medicine expert can be used early in the case to consult and strategize with the attorneys, then testify during trial.
No matter how involved you choose to make your opioid addiction expert, there are certain strategies that can make your working relationship better:
Engage with your expert early. The most expedient and cost-effective way to decide if you should pursue a particular case is to work with an addiction expert that can help identify the strengths and weaknesses of the case. In this scenario, opioid addiction experts can add input on often-valuable early-stage questions, such as whether the expert's findings and opinions have implications for other parts of counsel's legal strategy.
Determine if your addiction expert meets both legal and practical requirements. Saponaro, Inc. will help ensure the expert fits your needs. We thoroughly screen your case with our experts to obtain the best available match. We also ensure that the expert works well with you – that they can meet your deadlines; that they communicate in your preferred method (phone versus email versus in-person); and that their schedule is flexible to meet your needs.
Develop a winning strategy. The best experts work with the counsel to produce strategies that win court cases. Expert advice is often critical to making the most of fact discovery, and our experts can assist with framing discovery requests, identifying productive issues to investigate in depositions, and identifying the right personnel to depose.
Know the experts fee schedule. Of course, your opioid addiction expert will charge you for their time assisting you on your case. However, a service that charges a flat fee for the referral, like Saponaro, Inc., will help control your costs. Our referral fee is more than competitive, and we do not invoice for our experts. Therefore, there are no hidden costs.
Find the Addiction Expert You Need
Saponaro, Inc. will recommend anexpert that has the best interest of your case in mind, and that iswhy we thoroughly screen your case with potential experts, in order to obtain the best available match for the specifics of your case.
When you're ready, we have thousands of experts standing by to assist you with your case. Find one today.