June 6, 2019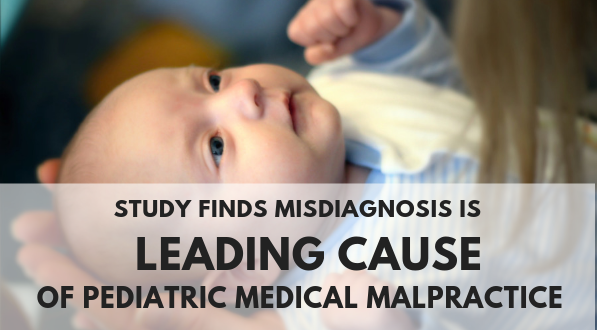 Misdiagnosis is more common than many people think, especially among pediatric patients. In a study that examined over 1,200 pediatric medical malpractice claims, the most common patient assessment issue was "failure to appreciate and reconcile relevant signs, symptoms and test results."
The providers in the study failed to see the bigger clinical picture by looking at all available information (such as patient history, reported symptoms, a physical exam, and test results) to properly diagnose the patient.
Pediatric patients included in the study were all under the age of 18. This included newborns, infants, and toddlers, all the way through teenagers and young adults — a wide spectrum whose health needs vary with age.
Here are the most common allegations for medical malpractice claims in the study broken out by age group:
Patients under 1 month old: obstetrics-related treatment (63% of claims)
Patients 1 to 11 months old: diagnosis-related (failure, delay, wrong) (44%)
Patients ages 1 to 9 years old: diagnosis-related (failure, delay, wrong) (38%)
Patients 10 to 17 years old: diagnosis-related (failure, delay, wrong) (34%)
The study found that when a physician didn't conduct a thorough history and physical exam, important information was missed, resulting in a misdiagnosis and improper treatment. Depending on the health problem and misdiagnosis, this could lead to life-altering and potentially fatal consequences for the patient and family.
Among the youngest age group (under one month old) the most common diagnoses in the diagnosis-related claims issues included ventricular septal defect, kernicterus, hydronephrosis, congenital deformity of the hip, and infections like sepsis.
In the older age groups, the most common diagnoses in the diagnosis-related claims included fractures and dislocations, malignant neoplasms (brain, mediastinum, eye, genital organs, skin, lymph nodes, etc.), torsion of testis, meningitis, pneumonia, acute appendicitis, viral and bacterial infections (MRSA and septicemia, for example), and cardiac conditions.
The study also provided recommendations for lowering instances of misdiagnosis among pediatric patients, such as:
Familiarizing oneself with the National Institute of Child Health and Human Development (NICHD) nomenclature
A prompter response when a nurse requests a physician assessment
Drills to ensure 30-minute response times for emergency cesarean section deliveries
Careful reevaluations when patients return with the same or worsening symptoms
Quality documentation at all times
More adequate information for parents to better identify when a sick child needs emergency care
Better communication with patient and family to ensure accurate histories and assist in the diagnostic process
Expert Witnesses for Medical Malpractice Lawsuits
No matter the type of pediatric medical malpractice case you are pursuing, you can trust Saponaro, Inc. for professional and objective expert witnesses. We're here to help keep the process as streamlined as possible. We offer:
Medical experts
Comprehensive Case Evaluations
MD hotline
Independent medical exams
You can find a consulting or testifying expert witness you need to strengthen your medical malpractice case. We have thousands of experts standing by to assist you. Find one today.