March 18, 2019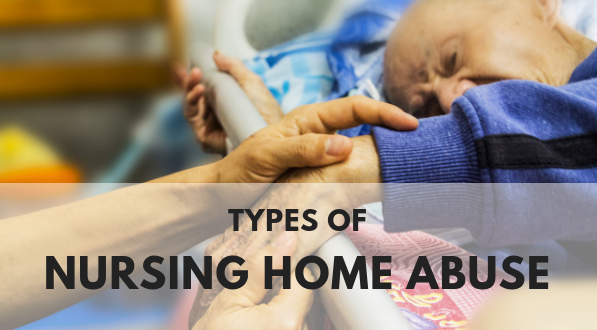 Nursing home abuse stories are all over the national news. A Quincy nursing home is fined after mental abuse by a staffer. A troubled Raleigh nursing home faces new state and federal investigations.
And of course, the well-known and horrifying story of the long-term care facility patient who was raped, became pregnant, and gave birth.
How common is nursing home abuse in the United States? And what exactly do we mean when we say 'nursing home abuse'? What are the different types of nursing home abuse?
Startling Nursing Home Abuse Statistics
Elder abuse occurring in nursing home and long-term care facilities is often underreported. The New York State Elder Abuse Prevalence Study found that for every case known to programs and agencies, 24 cases of abuse were unknown.
For perspective, the number of nursing home residents in 2014 was approximately 1.4 million and the number of residents in residential care communities was 835,200. According to the National Ombudsman Reporting System (NORS) data, within the year 2014, 14,258 (7.6%) of approximately 188,599 complaints reported to Ombudsman programs involved abuse, gross neglect, or exploitation.
Abuse of elders in nursing homes by other residents is a more common type of nursing home abuse compared to abuse by a staffer. Types of nursing home abuse can include any of the following:
Physical abuse: When a fellow resident or staff member physically harms the person purposefully. Examples include shoving, tripping, hitting, pinching, biting, or any kind of activity that can cause physical harm to the body.
Psychological or verbal abuse: When a fellow resident or staffer subjects the person to behavior that may cause mental or emotional trauma like anxiety, depression, or post-traumatic stress disorder (PTSD). Verbal abuse occurs when a person uses words to mentally or emotionally harm another. Examples include threats and insults.
Sexual abuse: When a fellow resident or staffer subjects the person to unwarranted and nonconsensual sexual activity. This can include indecent exposure in front of a resident, sexual harassment, and rape.
Neglect: It's the job of the nursing home staff members to care for their residents. Deliberately failing to do so is a form of nursing home abuse – neglect. No matter the level of neglect – from failing to change the residents' bedpan regularly, to not supplying nutritious meals, to completely failing to care for the patient – any form can cause dangerous consequences.
Financial exploitation: If an elder is taken advantage of financially, it is considered financial exploitation. This can occur in nursing homes and long-term care facilities where residents and their families are charged for services and housing.
Find the Expert You Need
No matter the type of nursing home abuse involved in your case, you can trust Saponaro, Inc. for professional and objective expert witnesses. We're here to help keep the process simple and affordable and direct. We offer:
Let us take the work of identifying an expert for your nursing home abuse case out of your hands. We have thousands of experts standing by to assist you with your case. Find one today.