October 1, 2018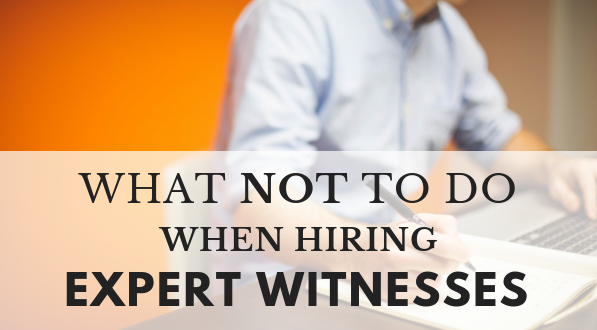 Let's talk hiring expert witnesses. If you're either considering finding one for a case, or you've already been down the road of hiring expert witnesses, each experience is a learning opportunity.
The Internet is swamped with articles on how to hire an expert witness, when you should hire an expert witness, and what expert witnesses do. But what about mistakes to avoid? Even in this area, you can learn from others' mistakes.
When Hiring Expert Witnesses, Avoid These Errors:
Opt for easy representation over premium representation.
Consider your case as you start the process of hiring expert witnesses. Can you afford not to select the best possible expert witness? Working with Saponaro, Inc. can ensure you receive expert witnesses that can speak to the specific issues of a case. Our experts are vetted for experience and conflicts so when you begin working together there are no surprises. This service is done for a flat fee and all expert fees are quoted at the time the expert is named. This allows you to calculate the cost of your case.
Hire an expert witness to testify that cannot speak to the jury.
Many times expert testimony is complicated and foreign to the average juror. A strong expert can convey ideas and terms so that the jury can grasp the ideas being presented. Just because an expert has experience in a field does not mean they have the ability to convey information to a jury. Always remember that an expert witness behavior associated with low likeability is using highly technical (and therefore, inaccessible) jargon.
Believe everything you find or read online.
Vetting expert witnesses before hiring them is crucial – sometimes it can make or break a case. For instance, defense attorneys can research and question an expert witness' credentials and resume during cross-examination, and if proper vetting hasn't been completed and your expert witness cannot stand up to a Daubert challenge their testimony is of no value to your case. That means wasted money and time or worse: a losing case. Saponaro, Inc. takes the "guesswork" out of obtaining an expert. You can trust what you receive through us – we know the expert's track record, background, credentials, and qualifications.
Waste precious time and staff scouring the web for expert witnesses.
Again, Saponaro, Inc. makes hiring expert witnesses easy. We get it – you're busy and don't have a lot of time to search and vet credible expert witnesses. But we do. And we already have a database of actively practicing professionals ready to go. We take the workload off your desk and can meet the strictest of deadlines, so you can use your time and staff on case work. We can take care of the evaluations for merit and/or screening your case with experts. Let us improve the efficiency and quality of your case management.
Avoid open communication.
Once your expert witness is chosen, it's crucial to agree on deadlines and the best mode of communication from the outset. Keep in mind your expert should be an actively practicing professional, so setting clear communication expectations from the beginning will ensure effective communication throughout your working relationship.
Delay turning to your expert for guidance when deciding to pursue a case.
One of the most damaging things you can do when hiring an expert witness is NOT engage with them early. The most expedient and cost-effective way to decide if you should pursue a case is with an expert that can point out the strengths and weaknesses of the case from the start. If you do decide to pursue the case, include your expert in the discovery process. Experts can be invaluable in framing discovery requests, identifying productive issues to investigate, identifying the right personnel to depose, and forming deposition questions. Use your expert witness to your advantage as a strategic member of your team.
Hire Expert Witnesses the Right Way
Saponaro, Inc. is here to make the expert witness hiring process as simple and straight-forward as possible. Let us be a part of your team with:
Increased efficiency
Focus on core areas
Access to skilled resources
Increased speed of delivery
Ability to calculate the cost of your Expert
For more information on working with an expert witness, download our free eBook on the "7 Best Practices When Working with an Expert Witness". The seven steps outlined in this PDF will help you properly investigate your case and minimize costs accrued when determining whether your case is worth pursuing. Take the next step today.