June 20, 2019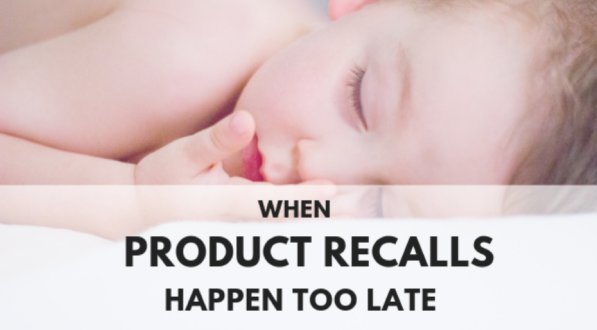 Product recalls happen as a result of consumer safety concerns not originally detected when the product was released, or because of an undetected malfunction that requires repair. But injuries or even death can occur when a product is recalled off the market too late.
Even if a product is for sale and being purchased by thousands or millions of consumers, it's not necessarily safe. It could be a best-seller for a manufacturer, resulting in millions of dollars in profits, but it may not be safe.
Fisher-Price Rock 'n Play Sleeper Deaths & Injuries
This was the case with the popular Fisher-Price Rock 'n Play Sleeper, which is currently the subject of two class-action lawsuits. On April 5, 2019, a Consumer Reports investigation connected the infant rocker to more than 30 infant deaths since 2009. Days later, Fisher-Price issued a safety warning clarifying the safe use of the sleepers.
But issuing the safety warning wasn't enough. Despite expecting to lose an estimated $30-
$35 million in sales of the popular baby product, Fisher-Price voluntarily decided to take all
4.7 million of its popular Rock 'n Play sleepers off the market via product recalls.
The class-action lawsuits against Fisher-Price and its parent company, Mattel, state that the sleeper was dangerously and falsely advertised.
"The recall was too late to save the lives of more than 30 infants and to prevent injuries of numerous other infants caused by the Rock 'n Play," the lawsuit states. "The Rock 'n Play causes death or injury to infants because its defective design enables them to move into positions in which they cannot breathe."
Vape Pen Injuries
Another popular product that's still being sold by numerous manufacturers and being used by thousands of Americans is the vape pen, also known as an e-cigarette. One user was walking his dog when his leg suddenly burst into flames.
His KangerTech e-cigarette was in his pocket, and it had exploded.
Why did this malfunction occur? The man states it could have been his use of an off-brand battery inside the vape pen, which KangerTech had not specifically warned about. Regardless, the man suffered third-degree burns across his right leg, and required treatment from a burn unit.
There are multiple exploding e-cigarette instances resulting in severe, life-altering injuries. Yet these products continue to be sold and used by consumers, despite the lack of warning from manufacturers and the risk of personal injury.
These examples show that every day products can be dangerous, even if they're tested and advertised as safe. Product recalls occur to take dangerous products off the market, but sometimes they happen too late.
If you're looking for an expert witness for your personal injury case, let us help. We have thousands of experts standing by to assist you with your case. Find one today.