April 20, 2020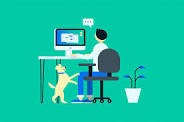 Changing times mean new opportunities. Not only are attorneys being asked to work in new ways, but clients are going to ask new questions that you should be prepared to answer. The following is a guide to finding your way during the pandemic.
What clients need:
Estate planning
The search term "getting a will" has risen sharply since March 8th according to Google Trends. Many people in uncertain times look to put a plan in place in case of illness or death. This trending search indicates many Americans are getting their proverbial houses in order. It is also a good time to discuss with clients the need for power of attorney should they become incapacitated.
Interpretation of changing federal and state benefit laws
Many clients' legal needs will change during and after the pandemic. More clients will need to understand changes to federal and state benefits, want to know how unemployment affects pending family law cases, and will have to take extraordinary steps to keep their businesses alive. You may not have the answers to the many questions that arise, but thorough research will help your clients respond and adjust during the crisis.
Communication
Be accessible to your clients and let them know the best way to stay in contact.
Provide status updates on cases.
In case of illness to your client, have a succession plan in place.
What staff needs:
Remote access and video conferencing. At this point, we are unable to assess the duration of social distancing. To effectively manage your practice, remote access and video conferencing are keys to help establish a normalcy for communication in lieu of face to face interaction. Have a video conference scheduled every week that you are available, to meet face to face with staff and discuss issues and solutions.
This ensures that you can continue to assist your clients and provide necessary services and maintain guidance and supervision to staff.
Along with weekly teleconferencing, daily interaction via email and telephone can ensure you are meeting the needs of your clients and staff.
 If you get sick:
Have a comprehensive succession plan in place if you are forced to step away due to illness or illness of a family member. This is especially important in solo or small firm practices. This should include a consent form authorizing the assisting attorney to contact your clients.
To maintain morale:
If you have a mission statement this is the time to reinforce it. A clear message about what you are trying to accomplish gives you and your staff a compass through this difficult time.
Be open and available
Working remotely presents its own set of hurdles. Be available to assist with solutions and open about the ones you are facing. Collaboration and teamwork are effective tools in this uncharted environment.
Promote a digital company culture
Create a virtual water cooler for your office. Part of your weekly face-to-face meeting should include honoring your office culture. Congratulate jobs well done and build a sense of shared responsibility through group problem solving and allotting time to relate on a personal level. Everyone is experiencing changes at this time and it is beneficial to share and support one another.
Show compassion
During this time your staff and clients may be experiencing unprecedented challenges to their health, the health of a loved one or the survival of their livelihood. In a face-to-face setting there is a multitude of opportunity to support one another. Technology can help to keep staff and clients in the loop, but it won't solve the gaps in communication. Encouragement, emotional support and a "we've got this attitude" can help employees to take up the challenge with a sense of purpose and focus.
There is no blueprint for this pandemic. These challenges must be managed deliberately and intentionally.
We are all facing an unprecedented time in our lives. We are learning each day and trying to figure out new ways to do everyday things. This guide will help you keep structure in your daily life during a very unpredictable time. Remember that although we may each be home, and working alone,
we are all in this together.
Please contact us for Expert Witness and Case Evaluation needs.