December 3, 2018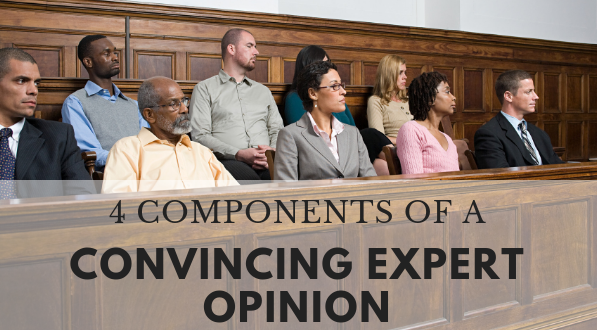 As an attorney with years of experience in the legal industry, you know all about expert witnesses. You know when to hire one for a case. You know the pros and cons. And you know the benefits of having one. But have you perfected the art of establishing a convincing expert opinion?
During a jury trial, every witness who takes the stand is one piece of a complex puzzle. The jurors have the difficult task of putting all the pieces together to determine a verdict. You can help them do so by placing not just any expert opinion in front of them, but one that is particularly convincing.
Focus on This to Ensure Your Expert Witness is Persuasive
Attorneys have the final say when it comes to expert witnesses. They get to choose who to use not just as an expert consultant on a case, but whose expert opinion they want to share with the jury. They get to decide which questions to ask the witness in front of the jury. They steer the direction of the conversation.
Ultimately, it's up to you to make sure the expert testimony and opinion is convincing. Here are some ways to do so:
Experience and Education
Convincing expert witnesses are well-educated and have many years of experience in their fields. An expert opinion is more likely to be convincing if it's from someone who has encountered a similar situation before (experience), has numerous credentials and continual training in their field (education), and has experience testifying in deposition and court. Surely a person who has testified as an expert witness understands how to frame their opinions in a convincing manner.
Confidence
In the beginning of the expert testimony, your job is to establish the witness as an expert in a particular field. Years of experience, previous expert testimony, and knowledge in a subject area are key, but so is confidence. The jury will be able to gauge whether or not the witness feels confident in his/her role, and this confidence will set their minds at ease that yes, the person really does know what they're talking about. The jury will be more likely to take the expert's opinion seriously. On the contrary, a person who seems nervous and unsure is more likely to make the jury question: should we trust this person's opinion?
Attention to detail
An experienced expert witness knows they need to answer the questions as specific as possible. Expert testimony is not a time for vagueness. And it's not unusual for a witness to be asked the same type of question multiple times (even if the answer is abundantly clear) because of an effort to make the expert say something detrimental to the case. A convincing expert witness understands and appreciates this process, and will stick to their opinions, no matter the line of questioning.
Caters to the audience
As mentioned previously, an expert opinion in a jury trial is meant to steer the jury towards a verdict. The most convincing expert witnesses keep this fact in mind at all times: the jury is their audience. How should they phrase their answers to ensure the jury understands? Can they eliminate jargon and complicated verbiage while still delivering a fact-based expert opinion? An effective expert witness knows and understand how to speak to a jury. He or she may turn towards the jury when asked a question, make eye contact while speaking, and elaborate on a complicated topic without being asked.
An Expert Opinion You Can Rely On
Presenting an expert opinion is critical to the outcome of your case. An expert opinion is just that – the specialist's opinion – and with the right expert and the right approach to your case, the expert's opinion should be a convincing one. It's all about choosing an expert with impressive credentials, experience, education, confidence, attention to detail, and an audience-focused approach.
You can trust Saponaro, Inc. for professional and objective expert testimony. We thoroughly screen your case with our expert witnesses to obtain the best available match. We have thousands of experts standing by to assist you with your case. Find one today.