October 30, 2018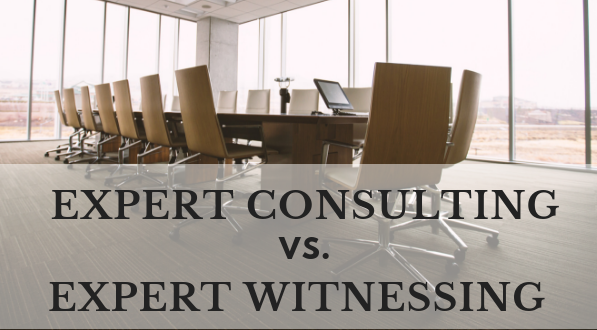 Some people use the terms "expert consultants" and "expert witnesses" interchangeably. This gives the impression the two are the same, which is far from true.
Yes, expert consulting and expert witnessing have characteristics and responsibilities in common, but it's critical to understand the difference between the two, especially before hiring an expert. This difference can make or break your case.
How is Expert Consulting Similar to Expert Witnessing?
Expert consultants and expert witnesses are both experts in their areas of specialty. Both can focus on areas of specialization such as pediatrics, neurology, orthopedics, pain management, wound care, etc., or non-medical fields like handwriting analysis or accident reconstruction. They both have advanced training, education, and experience in a field. An attorney can turn to either an expert consultant or an expert witness for help strategizing a case.
Expert consulting often uses objectivity, analytical processes, communication, emotional intelligence, and other skills to identify a problem and propose a solution. The consultant works closely with the attorney by providing value in their area of specialization that informs the case.
Expert witnesses also bring these skills to the table, and both professionals are important team members who can help win a case. But this is where the similarities end and the differences begin.
Why Expert Consulting is Not Expert Witnessing
The expertise of a consultant ends behind the scenes. The primary difference between expert consulting vs. expert witnesses is that expert consultants do not testify in court. All communication and information exchanged between the consultant and the attorney happens behind the scenes, outside of the courtroom. An expert witness, on the other hand, is a team member who is involved throughout the entire process – behind the scenes and in front of the jury.
Determining if you need an expert consultant or an expert witness is crucial before you begin working with the individual. It can impact where you find your expert, because an expert witness should be proficient in testifying in court. They should have certain traits, like the ability to translate complex, jargon-filled information into terms the average person can understand.
It's crucial to outline your goals for each of your experts. Knowing your goals will help identify whether you need an expert consultant, or a testifying expert witness. Go over the pros and cons of hiring each type of expert. As always, Saponaro, Inc. is here to help you find the right type of expert for your unique situation.
You can trust Saponaro, Inc. for professional and objective expert testimony. We thoroughly screen your case with our expert witnesses to obtain the best available match. We have thousands of experts standing by to assist you with your case. Find one today.