March 11, 2022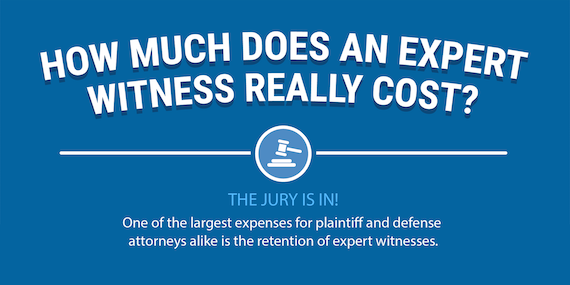 Expert Witness Fees
Expert witness fees can pile up fast, especially for high-cost medical experts. Many expert witness referral companies bill at an hourly rate and charge clients each time they interact with a provided expert witness. By providing their service in this way, they often add an extra 20-40% on top of their expert's hourly rates.
At Saponaro, Inc. we connect attorneys to top expert witnesses for a flat referral fee, rather than marking up hourly rates. As a result, attorneys who use our services save money by working directly with the expert witness they need at a cost established by that expert—not us!
How it works
Our experts set their fee schedules themselves, and the hourly rates are typically related to the area of expertise in which they provide testimony. Fees vary by field and specialization. Experts in medical fields command higher hourly rates and expert testimony fees than those in non-medical professions.
For example, a non-medical expert may charge $300 and up per hour for their services, while it is common for medical experts to charge $500 and up per hour for their time involved in assisting on a case.
When we match you with the expert you need for your legal case, we provide you with their fee information and Curriculum Vitae upfront; and by connecting you directly with the expert, you avoid paying additional costs beyond the expert's set fees. 
We do our best to provide you with all the necessary information regarding the costs to hire an expert witness, and are here to help should any questions arise about the expenses or processes associated with retaining a skilled expert for your legal case. Any expert we recommend is also accessible to explain their fees and qualifications.
Infographic: Flat Referral Fee vs. Traditional Referral Fees
Below, our expert witness cost infographic compares the cost of a flat referral fee versus that of a traditional expert witness referral service.

As you can see, Saponaro, Inc's transparent fee schedule removes the guesswork when calculating the expenses necessary to build your case and gather the expert testimony your client needs. By charging a one-time referral fee to screen your case and provide the best possible expert. All expert fees are quoted with the referral, so you know exactly how much of an investment you are making in a qualified expert witness—NO. HIDDEN. FEES. 
The retention of an expert witness is one of the most significant expenses for plaintiffs and defense attorneys alike—don't pay a markup on the expert witness you need for your case when you could save thousands by calling us instead. 
Contact us today for a NO OBLIGATION discussion of your case.
Note: This post was originally published in June 2016.